Liber Floridus 1121
The Image library
The Ghent University Library keeps tens of thousands of images in a variety of collections: age-old manuscripts and papyri, photos and curiosities from nineteenth and twentieth century collections and even some top collections, such as, for instance, the Piranesi prints. Pieces of the historical collections have now been made digitally available in high resolution free of charge under a Creative Commons licence. Open access to scientific research, which has been one of the University Library policy's spearheads, has thus been extended to open access to parts of the heritage collections.

More information: Download and reuse of high resolution images.
1913 World Fair
The Ghent 1913 World Fair was an true heyday of the 'Belle Epoque'. Not only the 130ha large exhibition park, but also the radical tackling of the historical city centre bear witness of the typical nineteenth century conviction that social changes can be effected by government policies. Almost all 1913 World Fair source material in the Ghent University Library collection has been made available digitally here.
browse
Europeana
Verschillende collecties van Universiteitsbibliotheek Gent zijn opgenomen in The European Library en in Europeana. Europese bibliotheken, musea, archieven en multimediahuizen bieden materiaal aan via Europeana. The European Library verzamelt materiaal van 48 nationale bibliotheken van Europa en de belangrijkste Europese onderzoeksbibliotheken.
browse
Flandrica.be
Flandrica.be is an online repository managed by the Flemish Heritage Library, a network of heritage libraries in Flanders. This online treasury filled with beautifully illustrated manuscripts, valuable old books and other historical material provides a unique perspective on our past and offers inspiration for the future
browse
The Great War (1914-1918)
The Ghent University Library possesses a variety of materials from the period of the Great War, spread across various lists and of various origin: manuscripts, prints, typescripts, posters, clippings, archive documents, pamphlets, brochures, photos, … . Apart from pieces which refer to the actual theatre of war, the collection includes records of everyday life in wartime as well as evidence of early commemoration practices. For obvious reasons, a lot of pieces specifically refer to the Flemish Movement, activism and Ghent's Flemish Academy. All these items have been digitized and can be consulted here.
browse
Numismatic collection
The University Library's numismatic collection includes some 3,000 tokens or medals from the fourteenth century to the present day. Unlike coins these are no legal tender but lasting memories of important historic events or figures. The collection mainly focuses three points of special interest in the production in the Low Countries: form and the burgeoning of numismatics during the Renaissance, the Eighty-Years' War and the rebellion of our provinces against the Spanish Habsburgs, and the medals of the Papal States. The collection has been entirely digitized.
browse
Giovanni Battista Piranesi
Giovanni Battista Piranesi (1720-1778) is one of the great artists of the eighteenth century. As an architect, archaeologist and artist, he strongly marked the image of Roman culture and the City of Rome. The Ghent University Library possesses an almost complete collection of his prints. They are all accessible in high resolution here.
browse
Papyri
Thanks to cooperation with Leiden university professor Worp and Louvain professor Clarysse, the 135 papyri of the Ghent University Library have been entirely digitized. The collection includes acquisitions made by Franz Cumont in 1908 (papyri 1 to 48), a number of Oxyrhynchus papyri acquired by Joseph Bidez (papyri 49 to 75) in 1932 and a collection of papyri acquired by the same Bidez in 1927 in Egypt (papyri 76 to 135), all dated between 300 BC and 800 AD.
browse
Topographical collection
The Ghent University Library's topographical collection offers an exceptional view of Belgium's cultural architectural patrimony. Thousands of postcards, photos, clippings and prints of late nineteenth-early twentieth century Belgian cities, buildings, landscapes, monuments and works of art are digitally accessible here.
browse
Items of Exceptional Importance to the Flemish Community
The Ghent University Library possesses a considerable number of precious masterpieces. Within the framework of the 2003 Decree on Items of Exceptional Importance, the Flemish Community is establishing a short list of items which are extremely valuable to Flanders. So far, 22 items in our collection have been canonized as exceptionally valuable. In order to make them accessible and to protect them from damage caused by manipulation, they will be entirely digitized during the following months.
browse
Image posters
Ever since the donation of the Vermeulen collection in 1960 an impressive collection of over 20,000 image posters has been built up. Image posters are carriers of pre-eminently visual content from all possible social environments and areas: politics, publicity, sports, tourism, religion, arts and culture, … This hitherto almost inaccessible collection is currently being described and made digitally accessible. Click here for the first results.
browse
Focus on Architecture
During the past few years, this collaborative project with the Architecture and Urban Development Department has been one of the collection's spearheads. Apart from numerous studies a lot of effort was spent on the collection of prints by Giovanni Batista Piranesi (1720-1778) and the estates of architects Louis Minard (1801-1875), Louis Roelandt (1786-1864) and Henri Van de Velde (1863-1957). The results have not yet been entirely digitized, but what is available has been assembled here.
browse
Ghent University professors
One of the units in the Ghent University Library photo collections consists of a series of portraits of Ghent university professors. The entire series is digitally accessible here.
browse
Recollecting Landscapes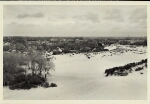 Botanicus en ULB-professor Jean Massart fotografeerde kort na de vorige eeuwwisseling honderden Vlaamse landschappen en koos daarvoor – vanuit strikt wetenschappelijke overwegingen - beelden die een bepaalde natuurlijke vegetatie of cultuur weergaven in samenhang met de geografie van de site. In 1980 maakten fotograaf Georges Charlier en botanicus Leo Vanhecke nieuwe opnamen van een zestigtal van deze locaties. Samen met de foto's van Massart werden ze in een reizende tentoonstelling aan het publiek getoond en gepubliceerd in een boek. In overleg met het Labo Stedenbouw van de Universiteit Gent, gaf het Vlaams Architectuurinstituut in 2003 aan fotograaf Jan Kempenaers de opdracht dezelfde locaties een derde maal te fotograferen. Zo ontstond een unieke drieledige reeks foto's die de transformatie van het landschap en de verstedelijking in Vlaanderen gedurende de laatste honderd jaar op een objectieve maar schitterende manier weergeeft.
browse